Moorea & Bora Bora
February 24 - March 8, 2002
BORA BORA

We snapped this during our 1 hour flight from Moorea to Bora Bora.
We believe it's a picture of Raiatea, one of the many islands in French Polynesia.
Bora Bora's lagoon from the sky is even more beautiful,
but those pics didn't come out as nicely. :(


DeeDee lounging on our bungalow's patio at the Sofitel Motu.


Jas figured out how to use the timer on the camera so we snapped this of us sunning on our patio.
To Jason's left is the main island of Bora Bora. Our hotel was located on it's own tiny island within Bora Bora.

Jas lounging on the beach at our hotel.


Our travel agent arranged a honeymoon dinner for us on the beach.
So we were completely alone on the beach, except for the 2
ukulele players who serenaded us about 20 feet to Jason's right.
We had lobster and champagne for dinner, it was really romantic :)

| | |
| --- | --- |
| Eating breakfast in our hotel's restaurant | A view of the main island (Bora Bora) behind Jas. |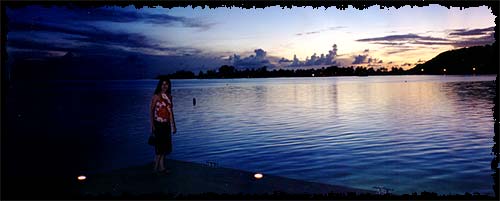 Waiting for the boat to take us across to the main island for dinner
(the boat was at each guest's beck and call and only took 4 minutes to go across).
The pictures below are of us on a catamaran sunset cruise.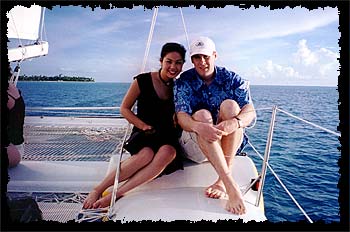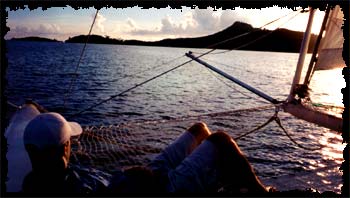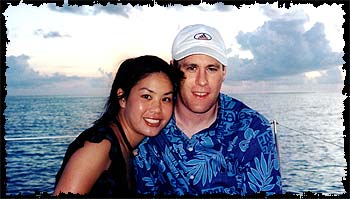 All in all, we had a great time and thought both islands were the most beautiful we'd been to. But, we definitely preferred Moorea over Bora Bora. While Bora Bora may have had a more beautiful lagoon, on Moorea, the island itself, the bay and the lagoon were just spectacular, and we felt Moorea had more character. If any of you guys are planning on going, we have an EXCELLENT travel agent to recommend. :) (deedee@deedee.com)
Click here to return to the main wedding menu